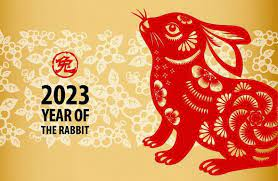 The Lunar New Year of 2023, also known as the Year of the Water Rabbit, will begin on
January 22 and last until February 9, 2024
, when we enter the Year of the Dragon.
What Does the Year of the Rabbit Mean to Us?
This upcoming year is generally seen as being less dramatic or tumultuous than the previous Year of the Tiger.
According to Chinese Astrology, the Rabbit symbolizes patience and luck. This suggests that the Year of the Rabbit 2023 will bring qualities that may have been lacking in the previous year, such as peace and success.
During the Year of the Rabbit, it is likely that people who are prone to impulsiveness or who have a tendency to be unrealistic will be influenced to be more level-headed and practical. It is, therefore, advisable to think carefully before acting to have the best chance of achieving your goals and realizing your plans.
The Year of the Rabbit 2023 is expected to be more relaxed and peaceful, with less anger and frustration. Additionally, it is predicted that financial success will come more easily during this year. Those born under the sign of the Rabbit are known for their calm and decisive nature, which helps them to navigate difficult situations effectively.
Those born under the Rabbit sign will experience good fortune with money and have harmonious relationships with those born under the Dragon, Monkey, and Ox signs. However, they may struggle to get along with those born under the Rooster sign due to the Rooster's perceived arrogance. They may also be incompatible with those born under the Tiger sign due to their tendency to have dramatic outbursts.

CHECK what's in store for you in the Year of the Water Rabbit by clicking the link below
https://chinese-year.com/2023
https://www.chinahighlights.com/travelguide/chinese-zodiac/rabbit.htm