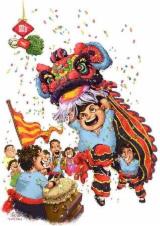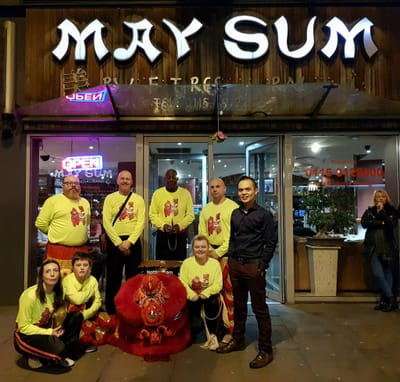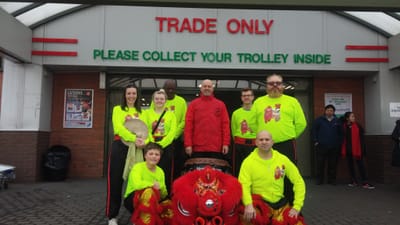 History of the Lion Dance (performance enquiries) 07737705464

For Chinese people the lion is a holy animal. That is why lion play an important part in Chinese mythology. In China lions and people can be friends. An old Chinese story tells about a lion, lion dances and New Year
A long time ago a strange creature appeared in China and horrified and ate men and animals. The fast and fierce creature was called 'nien' (or 'nian'), which sounds like the Chinese word for 'year'. Neither the fox nor the tiger could fight the 'nien' effectively and in despair the people asked the lion for help. The lion shook his mane, rushed towards the creature and wounded it. The nien hurried away with the tail between its legs. But it announced to return for taking revenge. A year later the nien did return. This time the lion couldn't help the people. He was too busy with guarding the emperor's gate. So the villagers decided to do the job themselves. Out of bamboo and cloth they produced an image of the lion. Two men crawled inside it and approached the nien. The 'lion' pranced and roared and the monster fled away again. This is the reason why on the eve of the Chinese New Year, lions always dance. They are frightening evil away for yet another year

Bringing luck and happiness

The lion dance is an important tradition in China. Usually the dance is part of festivities like Chinese New Year, the openings of restaurants and weddings. If well-performed, the lion dance is believed to bring luck and happiness.

Although lions are not native in China, they came to this country via the famous Silk Road. Rulers in what is today Iran and Afghanistan sent lions to Chinese emperors as gifts in order to get the right to trade with Silk Road merchants. The lion dance dates back to the Han Dynasty (205 B.C. to 220 A.D in China) and during the Tang Dynasty (716-907 A.D.) it was at its peak. It was particularly performed during religious festivals. The lion dance was not only introduced in China, but also in Korea and Taiwan, where lions are not native as well. The dances are not exactly the same in these countries, but the symbolism is quite similar.